Wood for the Zuger Living Room
, 3 minutes
Defining features of our Zuger Living Room include the impressive wooden tables with matching stools – a natural element to sit on, enjoy and take in. But where does this wood come from? What makes it so special? And how were these pieces of furniture made? Our search for answers to these questions took us deep into the forest.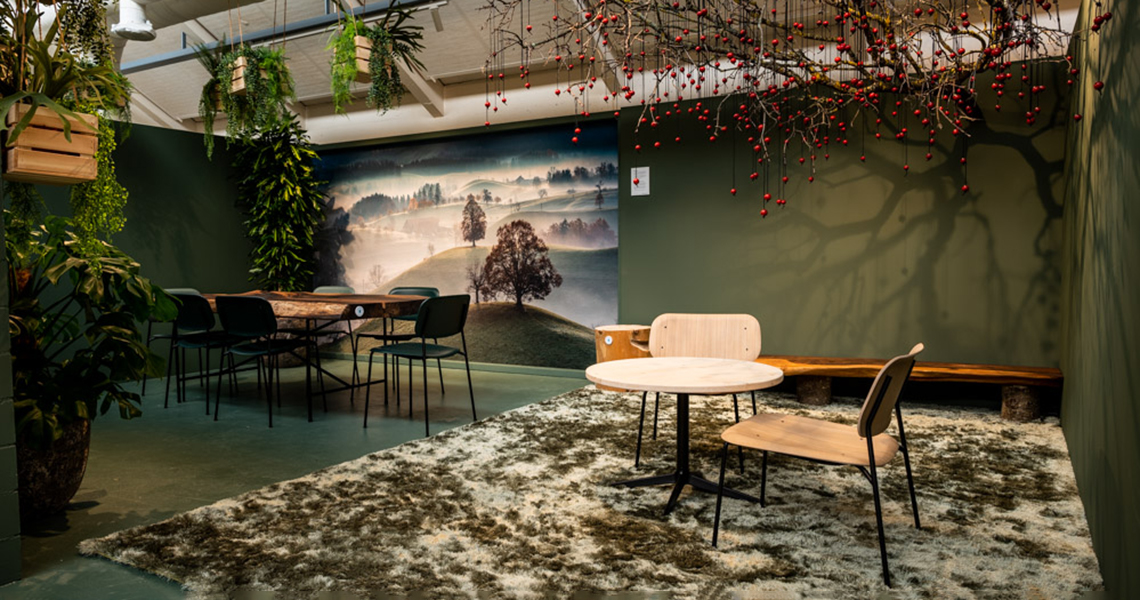 The forests of Zug: a living environment and place of recreation
Woodland is important for biodiversity. It acts as a repository of drinking water, supplies raw materials, and protects humans and the animal world against natural threats such as landslides and flooding. It offers a living environment for plants and animals, and a place of recreation for people.
The forests of Zug are spread out over an area of some 6,200 hectares – or around a quarter of the total surface area of the canton. Around 500 kilometres of forest paths are open to walkers, joggers, cyclists and horse riders. For many years now, the Zug Corporation has been managing this living environment and place of recreation for residents of the canton. The Corporation's mission is to create an attractive place to live. This also includes adopting a sparing approach to the consumption of resources.
Zug Corporation provides furniture for the Zuger Living Room
Forestry management is part of its remit. The forestry operations of the Zug Corporation encompass around 1,000 hectares of natural forest divided between two forestry districts – «Berg» (mountain) and «See» (lake). Sixteen people are involved in these operations. Thanks to their dedicated work, numerous recreational users can enjoy this natural local infrastructure. In addition to traditional forestry work, the team headed by Operations Manager Ruedi Bachmann also enjoys executing orders for wood products in a dedicated carpentry workshop. «We were delighted to get this recent order from Zuger Kantonalbank», enthuses Ruedi Bachmann. «We supplied the Zuger Living Room with a number of beautiful, untreated natural wooden tables and stools. The wooden table with a length of almost three metres is made from fir wood. It takes around a day to make once the material has been supplied. The tree in question was around 120 years old. Conifers give you heavy, stable wood – perfect for furniture. The small table comes from a walnut tree, while the stools were made from fir and spruce. Everything is left in its natural state – with the exception of the walnut table, which has a coating of linseed oil.»
So why not come and sit down – just drop by the Zuger Living Room by Zuger Kantonalbank and get a feel for the local countryside in the «Nature» area. You will also encounter various other fascinating natural highlights offered by the canton.

Subscribe to #ZugerKBlog
---
---
---