700 clubs and associations, 900,000 francs – whom do we support, and why?
, 5 minutes
What defines a canton? Active association and club life is certainly an important factor. After all, getting together, interacting, pursuing hobbies – this is something we all value. However, charitable organizations are often reliant on financial support. Volunteer work is unfortunately not always enough. This is precisely where we come in. You can see snapshots of our commitment in this area in our Zuger Living Room in Zug's Freiruum.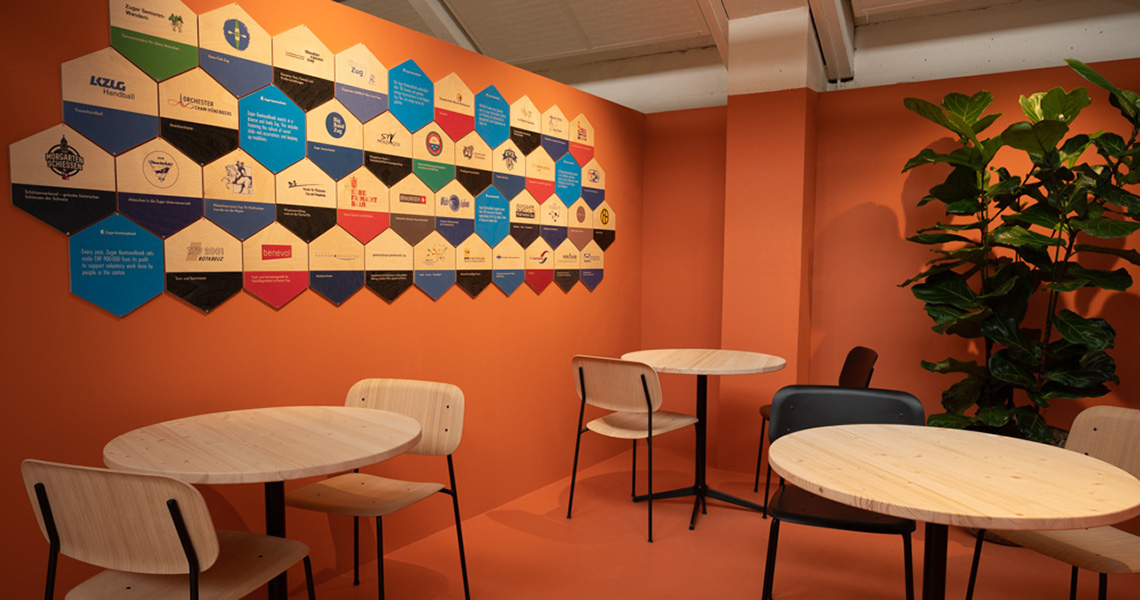 Applause for such a commitment to voluntary work
«Quer durch Zug» is an annual running event organised by a dedicated Organising Committee, for the most part comprising members of the Stadt-Turnverein Zug, which is itself a long-standing Zug association. This relay race through the streets of Zug's old town is open to both licensed and unlicensed teams of five or six runners, who are assigned to one of 13 different categories. This major sporting challenge is also open to the very young – the «one-cheese high» and «two-cheese high» categories are designed solely for small children. For more than 20 years now, this traditional event has marked the start of the summer season for many a runner.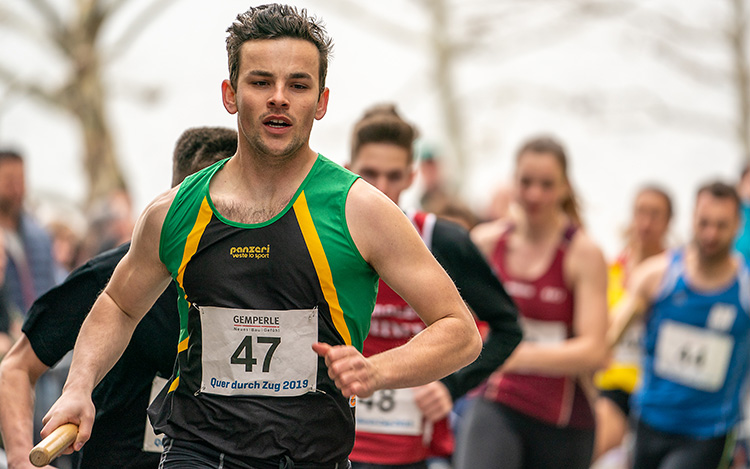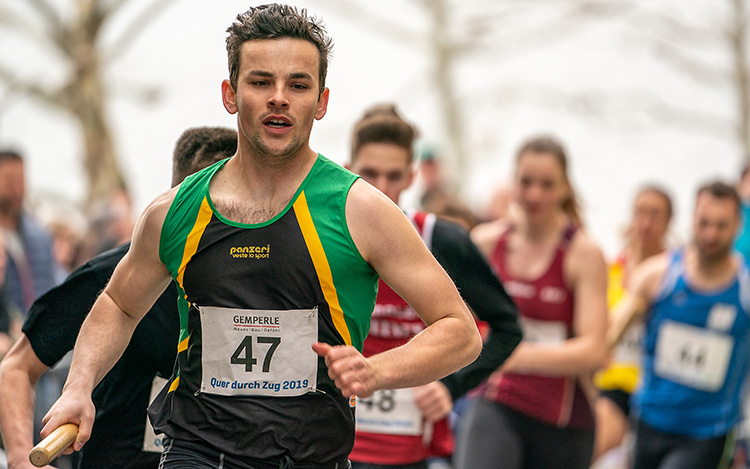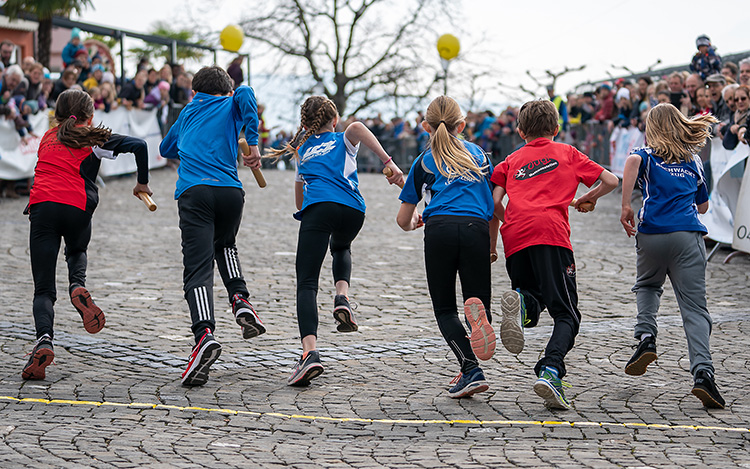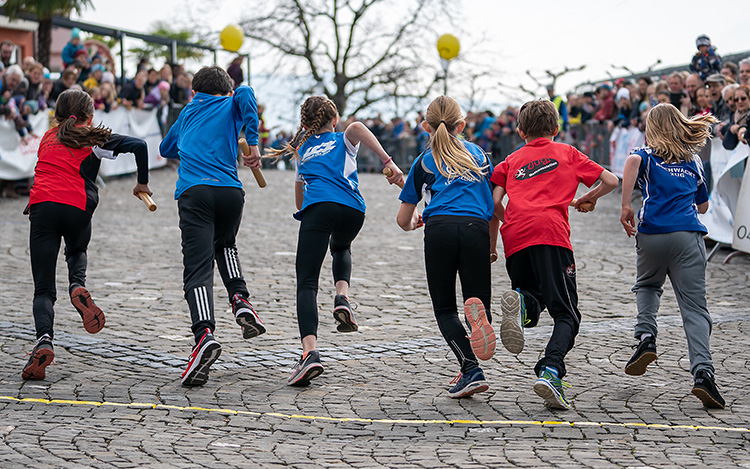 Image: Quer durch Zug
Michael Schäfer is Chairman of the Organising Committee. Although not a runner himself, he has worked as a voluntary helper and timekeeper at the Herti athletics track for many years, and has been part of the «Quer durch Zug» Organising Committee for a good few years now.
Are things going OK, Michael?
Very much so! As is clear from the participation figures for the last 20 years: 233 teams took part in 2001, a record 360 participated in the 75th anniversary edition, and we still have some 300 teams lining up. This equates to some 1,500 athletes, who travel here from all corners of Switzerland. And there will inevitably be the odd famous face on the starting line. For example, André Bucher – Switzerland's 800-metre World Champion back in 2001 – is among those to have taken on Zug's famous cobblestone streets. Local running celebrity Tobias Furer of Zug Athletics Club, the multiple Swiss 110-metre hurdling champion, is another familiar participant. The cantonal government even entered its own team in 2018.
How can you ensure that the association culture remains intact?
By putting in a huge amount of work for a worthwhile cause, to which you are 100% committed. To which you can add idealism, teamwork and occasionally the odd bit of persuasion. Last but not least, seeing the many eager faces of our youngest participants helps, as does the praise from the athletes at the end of the competition.
What are you particularly proud of?
The fact that I'm able play an active role in the organisation of this traditional event, despite not being an athlete myself. We are proud of our «Top sporting event in Zug» badge. I can count on the support of many helpers from the many different sports teams of the STV (Stadt-Turnverein). Obviously, our loyal sponsors also play a crucial part. Because without their financial support, this event simply wouldn't take place.
How do you attract helping hands?
Finding volunteers to staff the event hasn't become any easier. As is the case in many associations, the problems of a lack of younger people taking over plus a bountiful supply of alternative leisure options are tangible for us too. And this presents us with a number of challenges.
How exactly does ZugerKB support the «Quer durch Zug» relay race?
ZugerKB has been the principal sponsor of this event for many years. The event didn't take place in 2020 or 2021 due to the coronavirus situation. But ZugerKB has nonetheless been providing us with financial support. For example, by procuring a new finishing tape and new beach flags.
«Our canton should be multifaceted and vibrant!», reckons...
Zita Sisi, Communications Project Manager. She has been responsible for sponsorship at Zuger Kantonalbank for around 16 years, and deals with every enquiry we receive. The «Zuger Living Room» contains wall tile portraits of some 40 Zug clubs and associations. Zita knows each and every one. Here we focus on a few highlights of what she does:
What sponsoring engagement will you never forget?
100 years of Cham Women's Association – this was a fabulous anniversary event that brought a huge amount of happiness to many women. Particularly memorable was the Women's Walk around Cham. The committee and all the association members, young and old, do outstanding voluntary work. They regularly hold events such as candle-making, sewing courses, and seniors' afternoons.
What criteria do you rely on when deciding which associations to support?
We make donations to Zug-based clubs, associations and charitable organisations that are significantly involved in voluntary cultural, social or sporting activities in the Zug economic region, in keeping with our donation programme. The main focus is on charitable concepts and support initiatives.
Visitors to our Zuger Living Room will see any number of symbolic objects hanging from the ceiling. Which particular items are you most fond of?
The musical instruments, no question! When I see these, I think of the numerous music concerts that we have supported as sponsor or patron. Be it rock, classical, or Swiss traditional – we like to be involved.
What other clubs or associations should visitors to the Zuger Living Room be sure to look at?
The LK Zug Handball club is hugely successful, having been Swiss champions at the highest level on a number of occasions. The Zug-Cham Men's Choir is another interesting one. There are any number of events at which their melodic tones can be enjoyed!
Subscribe to #ZugerKBlog
---
---
---